This Week in Astrology: Full Moon Truths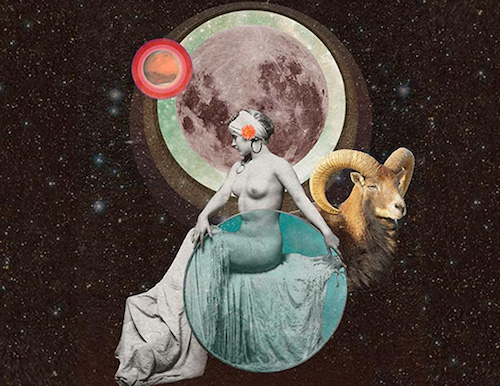 Digging Into the Full Aries Moon…
The Libra Sun squares the Lunar Nodes and Saturn early in the week, shining on the Full Aries Moon next Sunday (October 13th) in square to Pluto. The Aries Moon will see our emotions fueling our actions, making us impulsive and reactionary; while Pluto's influence brings a compulsive desire to dig into the depths of our buried feelings. The Sun shines from Libra, speaking to the balance in/with our partnerships.
The Moon in Aries, however, is all about the self. Are you being truly "you" and/or are you overwhelming others with your own "me"-ness? Shine a light into the secrets you've been keeping buried; it will allow for healthier relationships – and a healthier you going forward.
All this rooting around may reveal more than you (or others) are comfortable with. Squares are not comfortable aspects, creating energetic dissonances that challenge us in ways that insist on change. With the Nodes, Saturn and Pluto in play, we're at odds with those people and things we feel responsibilities toward, and our need for renewal. Ultimately, it's about living honestly and honorably, in alignment with our divine selves.
A trine from the Full Moon to Jupiter in Sagittarius promises growth from all that the squares are unearthing. This Moon is about digging through the mountain of buried secrets and feelings to get to the greener grass on the other side; but we must go through the mountain, not around. Moon cycles take a toll on our vitality, with endocrine system extremes. With the emotional work involved in this Full Moon, be kind to yourself (and others) – especially in the three days leading into and out of Sunday's Full Moon.
Warrior Strength…
Tuesday's Mars opposition to Chiron adds a surge of energy to our face-to-face with past wounds and traumas – likely some of the very things we've tried to bury. This may find us more bravely confronting our traumas head-on, or lashing out in defense of perceived wounds, or the echo of past hurts. Don't forget that you are stronger than your vulnerabilities. In fact, it is in conquering them – even surviving them – that we establish the strength within us.
A trine from Pallas to our Neptune/Lilith conjunction reminds us of the power of our imagination, and the courage it takes to peer into realms that others fear. As the archetype of Daughter, she is able to envision what our fathers and forefathers could not. Aim your gaze into the dark and create a vision of a new world. Then hold that vision so that others may also see.
Venus moves from Libra into Scorpio on Tuesday, aiming our attention at the deeper side of relationship. In Libra, we seek balance in how we encounter others; Scorpio takes us into the depths, where we find a greater understanding of what it means to merge with another. By the weekend, just in time for the Full Moon, Venus will be opposing Uranus as well, a planet that brings rebellion and pushes us out of our comfort zone so that we can live more honestly. That's what all the diving and digging is about – so you can uncover the truth and emerge into the light of a new day.
Guru Ram Das Guru…
We recognize the birthday of Guru Ram Das on Wednesday, October 9. The fourth of the ten Sikh Gurus, Ram Das means "servant or slave of God". He was Yogi Bhajan's personal guru, and it is to him we chant when we are in need of a miracle.
This would also have been John Lennon's birthday, and Vietnamese Buddhist Monk and Peace Activist, Thich Nhat Hahn celebrates his 93rd birthday on Friday the 11th. With gratitude and blessings for those who have – and continue to – light the way.
__
Article by RA MA Crew member, True. True has been studying Astrology for over twenty years, and regularly integrates it into her Kundalini Yoga & Meditation classes at RA MA Yoga Institute Venice, and on rama-tv.com. She finds it fascinating how everything connects – the cosmos, solar system, Earth and us – and loves to share, helping others to connect the dots in their own lives. True also offers virtual and in-person Astrology readings. To schedule a reading, email [email protected].